name
VOLCANO CO., LTD.
Trade Mark
Established
3, sept, 1928.
Capital
184,800,000 yen. (Authorized capital)
46,200,000yen. (Paid up capital)
Employees
122 (as of 18, sept, 2018)
Board of Directors

President and C.E.O
Masaaki Okihara
Director of Chemical Engineering Division
and Director-In charge of General Affairs Department
Shozo Kishimoto
Director of Combustion Engineering Division
Yoshiaki Tsuji
Executive Officer and Director of Manufacturing Division
Yoshinori Makiyama
Auditor
Hiroshi Kokubu

Address
- Head Office
1-3-38, Nonakakita, Yodogawaku, Osaka 532-0034 Japan

GENERAL AFFAIRS DEPARTMENT
TEL:+81-6-6392-5540
FAX:+81-6-6392-5549

COMBUSTION ENGINEERING DIVISION (Marine Boiler Burners and Incinerators / Industrial Boiler Burners)
TEL:+81-6-6392-5541
FAX:+81-6-6396-7609

CHEMICAL ENGINEERING DIVISION (Burner for Incinerator disposing of urban wastes, sludge and industrial wastes / Industrial Waste Liquid and Waste Gas Incineration Facilities)
TEL:+81-6-6392-5547
FAX:+81-6-6396-5244

MANUFACTURING DIVISION
TEL:+81-6-6392-5631
FAX:+81-6-6392-5539

- Tokyo Office
Nishi Shinbashi Daiichi Hoki Building, 3-5-2, Nishi Shinbashi, Minato-ku, Tokyo 105-0003 Japan
TEL:+81-3-5403-7575
FAX:+81-3-5403-0550

- Sanda Factory
501-11, Fukushima, Sanda-city, Hyogo 669-1313 Japan
TEL:+81-79-563-2781
FAX:+81-79-564-3428


Contact us

Affiliated Company
- VOLCANO SERVICE CO.,LTD.
Head Office
3-13-3, Miyaura, Mihara-city, Hiroshima 723-0051 Japan
TEL:+81-848-64-5541
FAX:+81-848-64-5543
Bank References
MUFG Bank, Ltd. (Juso Branch)
Sumitomo Mitui Banking Corporation (Juso Branch)
Acquired certification
ISO 9001 certificate, IMO type approval certificate & EC type examination certificate for shipboard incinerators, Nippon Kaiji Kyokai (NK) certificate, NIPPON HAKUYOHIN KENTEI KYOKAI'S CERTIFICATE
Members
Japanese marine equipment association, The Japan Institution of Marine Engineering, Japan Industrial Furnace Manufacturers association, Japan Boiler Association (JBA), The Japan Society of Mechanical Engineers, The Energy-Conservation center, The Osaka Chamber of Commerce and Industry, Japan Burner Research Association, Osaka Prefectural Manufacturing & Industrial Association, ZoHaKu Web Ltd.
Organization Chart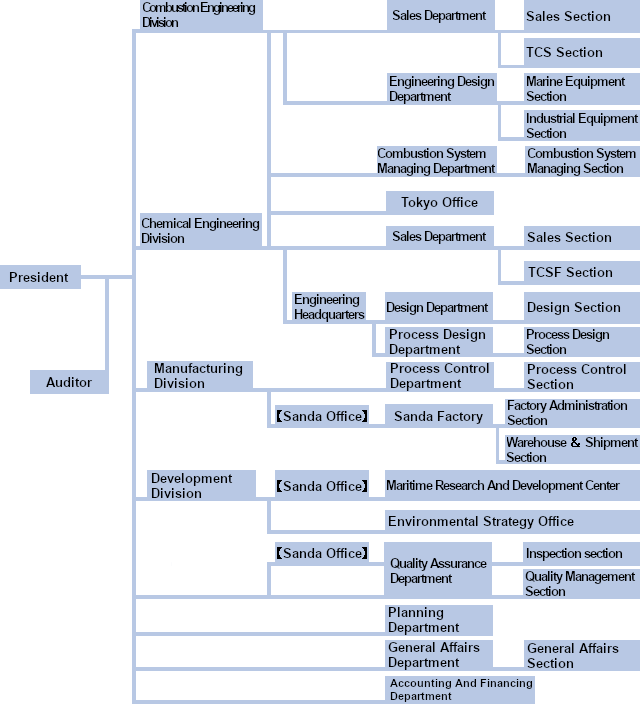 Quality policy
For our customer's satisfaction and dependence,Volcano precisely grasps the needs of our clients and prevents any nonconformity from occurring in each and every step of our business. This is our way of fulfilling our responsibility for our clients to improve our product quality. For this purpose, we hereby establish, hold and improve our quality management system (QMS) of all staffs-participating type based on the organization that clarifies each one's responsibility and authority.