August 2018
The task force called"VMGT"promoting gas fuel utilization has started activity.
To respond expanding of gas fuel utilization for marine field, VOLCANO has established a task force which is composed by members from the related divisions, and has started activity.
Task force name:
"VMGT"

= VOLCANO "Maritime Gas Fuel Utilization" Taskforce

Task force leader:
Hisashi Ishimaru (Mr.)
*Senior Manager / Research & Development Dept.

Task force members:
9 members from each department:
Research & Development Div.
Combustion Engineering Div.
(Sales/Marine Equipment/Industrial Equipment Sec.)
Combustion System Management Dept.
Manufacturing Div.(Administration/Procurement Sec.)
Tokyo Branch

Activity contents:
Offering solutions of utilizing gas fuel for boiler burner on LNG fueled vessel, processing BOG(Boil Off Gas) from gas fuel tank/answering questions from customers about utilization of gas fuel/ explaining a specific way to utilize gas fuel/ combustion condition setting when gas related materials are installed on LNG fueled vessels/ combustion adjustment and setting / commissioning …etc
For more information, please see "Press Information".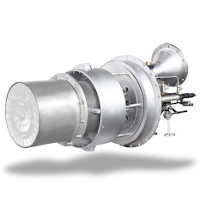 Oil/Gas Combination Burner "SFFGII"